Car accidents occur at any time. Therefore, you need to be prepared to deal with the repercussions at all times. Thorough preparation helps to reduce injuries, save lives, and ensure a quick response to your insurance claim. In addition, when drivers are properly prepared, they are less likely to run into trouble with the law. Unfortunately, many drivers tend to become stressed or go into shock following a car accident and may not remember what steps need to be taken. For this reason, it is best to keep the Huntsville Car Accident Checklist in any vehicle you drive. Having this list following a car crash ensures no steps are missed.
Joe King represented me with an insurance company following a car accident. He help navigate the long paperwork process and resolved the case for me. All the staff I dealt with by phone and in-person were very patient in explaining the information and helping me understand what I needed to know.
P.S. We also became very good friends and that has proven to me that they personally care about your well-being.
- Jill Gardner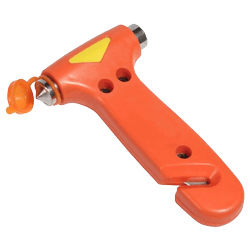 Other items you may wish to include in an emergency kit include a fire extinguisher and a vehicle escape tool.
The fire extinguisher is essential if the vehicle catches fire as a result of the accident, while the vehicle escape tool allows one to slice through a seat belt and break a window if they are submerged in water. Look for a tool that can be clipped to the visor for easy access. A whistle should be in the car so drivers can alert others if they go off the road.
A pencil and paper are helpful following an accident as well to document any information.