Huntsville Drunk Driving Accident Lawyer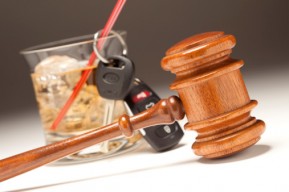 Have you or a loved one suffered an injury because of someone breaking the drunk driving laws?
Drinking and driving is a serious problem in Alabama. In 2006, there were 384 fatal motor vehicle accidents on Alabama roads involving intoxicated drivers.
Nationwide, there are 36 people killed and another 700 people injured daily in motor vehicle accidents that involve intoxicated drivers. Read our drunk driving deaths page for more info.
If you or a loved one was involved in an alcohol related accident, contact an Alabama drunk driving accident lawyer at Morris, King & Hodge, P.C..
Not only are drunken drivers potentially liable for the injuries they cause in motor vehicle accidents, but the establishment that sold or served them alcohol may be liable as well. Alabama has "Dram Shop Laws" which hold bars, restaurants, and other establishments liable when they sell or serve alcohol to a person who is (1) already visibly intoxicated or (2) under the age of 21.
Dram Shop Laws Apply To A Variety Of Establishments
Bars
Convenience Stores
Corporate Business Events
Grocery Stores
Liquor Stores
Package Stores
Restaurants
Social Clubs
These establishments have a legal duty to the general public not to sell or serve alcohol to someone who is already drunk and is likely to cause a serious accident. They also violate the law when they sell or serve alcohol to people who are not of legal age to consume alcohol.
Recover From Your Injuries While We Work On Your Case
If you were involved in a motor vehicle accident involving an intoxicated driver, your health should be your first priority. We can aid you in finding the best available medical care and perhaps arrange with your health care providers that the payment for your medical treatment be postponed until your lawsuit is settled.
While you recover, we will conduct an evaluation of your Alabama alcohol liability claim and determine who was at fault. We will perform a full investigation of the accident scene, obtain toxicology and medical reports, interview any witnesses, and take pictures of the vehicles that were involved.
Free Consultation and No Fee Unless You Collect
Initial consultations to discuss your injury claim are free and we handle injury cases on a contingency basis, which means there is no fee or costs unless we collect money for you.
Contact Us
From our office in Huntsville, Alabama, Morris, King & Hodge, P.C., handles Alcohol Liability cases in counties and cities throughout the state of Alabama, including Athens, Decatur, Florence, Fort Payne, Guntersville, Scottsboro, Cullman and Birmingham. If you think that we can help you or a loved one as we have helped so many other Alabamians with their Alcohol Liability cases, you may be entitled to benefits of which you may not even be aware. Please call our experienced drunk driving attorney in Huntsville (256) 536-0588, toll free 1-888-321-8353 or complete our quick contact web form. Our DUI lawyer at Morris, King & Hodge, P.C., can help you or a loved one.