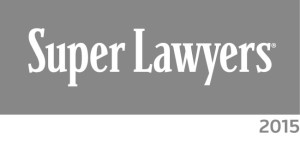 The Huntsville personal injury law firm of Morris, King & Hodge, P.C., is proud to announce that partners Harvey Morris and David Hodge have been selected for the 2015 edition of Alabama Super Lawyers. Thanks to their many years of experience, impressive credentials, and outstanding performance as plaintiff's attorneys, Harvey Morris and David Hodge successfully completed the rigorous, patented Super Lawyers selection process, singling them out as Alabama's leading attorneys. Morris, King & Hodge, P.C., is one of the Alabama's top personal injury law firms, led by successful lawyers backed by a support staff with decades of collective experience.  Harvey Morris, one of the firm's founders, has been helping clients with their personal injury needs since 1966, and he has been recognized in Super Lawyers for 7 consecutive years dating back to 2009.
"Morris, King & Hodge, P.C., is an active and successful personal injury law firm," representative Joey Aiello said, "and there is no doubt that Harvey Morris' and David Hodge's skill as attorneys are keys to the firm's success. Their selection as 2015 Super Lawyers is well-deserved, and a sign of the high standards and commitment to our clients that makes Morris, King & Hodge, P.C., so special and effective."
Established to fill the need for an impartial, third-party authority that could find and point out the country's top attorneys, the Super Lawyers rating service has become one of the most respected in the legal industry. The magazine's selection process is multi-phased and involves independent research, peer nominations and peer evaluations. Notably, the rigorous and extensive Super Lawyers selection process received a patent in April of 2013, a sign of the innovation and careful planning that went into designing it.
With both Harvey Morris and David Hodge being featured in 2015 Super Lawyers, the practice's clients can be confident that they enjoy strong, effective representation for their personal injury needs. Like the rest of the Morris, King & Hodge's roster of attorneys, Harvey Morris and David Hodge have built impressive legal careers providing energetic, highly effective representation to those who need it most.
Morris, King & Hodge, P.C.'s lawyers have won awards for countless car accident lawsuits and personal injury clients to give them access to the resources and care they needed to ensure full recovery. Our personal injury attorneys focus intensely on doing what is best for each and every client, giving them the representation that allows them to stand up against well-funded insurers and corporations, putting the odds back in favor of those who were wronged and harmed.
Harvey Morris' and David Hodge's selection as a 2015 Super Lawyers is confirmation both of their superlative skill and dedication as a personal injury lawyers and of the unmatched spirit of service and attention to clients' needs that pervades the Morris, King & Hodge, P.C., law firm. The partners, attorneys, and staff of Morris, King & Hodge, P.C., congratulate Harvey Morris and David Hodge on their selection and commit to honoring their achievement by continuing to work tirelessly to do right by the firm's clients and uphold the impressive reputation of the practice.
Since 1966, our lawyers have been standing up for injured victims and taking cases to court in North Alabama and all across the state. If you're hurt in an accident, you want to be sure that you have the most qualified injury & accident lawyers representing you with a proven track record representing injured victims in the courts.