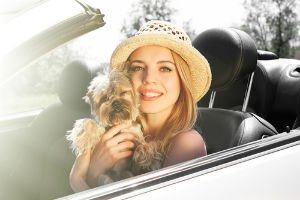 Most people know that distracted driving is a serious threat to everyone's safety. Many agree that texting, eating, and other distractions are not acceptable. It seems like we are more aware than ever before of what constitutes a dangerous distraction. Why then is it still legal in nearly every state to drive with your pet in your lap?
AAA and pet-travel product manufacturer Kurgo surveyed dog owners about this issue. While a majority of them agreed that driving with an unrestrained pet in the car was a dangerous distraction, only 16% reported using a crate, carrier, or harness to restrain pets. The survey also revealed that a majority (52%) of people admitted to petting their dog while driving. Others (17%) admitted to letting their dog sit in their lap, and 13% admitted to giving their dog food or treats while driving.
Engaging in these activities while operating a vehicle seems to be the definition of distracted driving. If it is illegal to be distracted by a cellphone, then how can you drive with a pet in your lap? It has been difficult for states to enact laws banning them, however. Right now, only one state, Hawaii, has a law against driving with a dog in your lap or the immediate area of the driver.  Others, like Nevada, New Jersey, and Washington, have comprehensive distracted driving laws that could be applied to unrestrained pets, but none explicitly say so. One Alabama city has passed an ordinance banning distracted driving in a school zone which specifically mentions pet interactions in its definition of distracted driving.
The problem is not awareness of this issue on the part of legislators. In 2017, five states – Indiana, Maine, North Carolina, Oregon, and Pennsylvania – considered bills that would prohibit allowing dogs to sit in a driver's lap. All but Pennsylvania's, which is still being considered, were withdrawn or lost momentum.
What caused these bills to fail? Public sentiment against these measures was primarily to blame. This was true for North Carolina state representative Garland Pierce, who was the sponsor of a successful bill banning texting and driving. When he proposed a bill that would fine drivers with dogs in their laps, his constituents were not happy. "The public outcry was unreal," Rep. Pierce said. "I saw this as a highway safety issue. I had no idea that I was opening a can of worms." The proposed fine amount was $100.
It seems that education, not legislation, may be the most effective way to enact change with pet owners. People are aware of the dangers of having their pet unrestrained in the car, but few of them are willing to restrain their furry companions when traveling.
Unfortunately, the ready acceptance of these risks can lead to devastating consequences. An unrestrained animal in the car can become a disastrous distraction or a deadly projectile. When a pet distracts the driver and they cause a wreck, parties with any type of injury may be eligible to pursue a civil claim against the distracted driver. Until pet owners learn that safety carriers and restraints could save their pet's life and help to avoid unnecessary distracted driving accidents, more innocent people may suffer.
Contact Us Now for Help With a Distracted Driving Car Accident Claim
If a distracted driver hurt you or took the life of someone you love, the Huntsville car accident lawyers of Morris, King & Hodge, P.C., want to help you. You want a proven legal team on your side when things go wrong. We are prepared to help you seek the compensation and justice that you deserve. Contact us now by phone, chat with us live, or fill out an online contact form to schedule your free, confidential consultation today.
Additional Resources for Alabama Dog Owners: