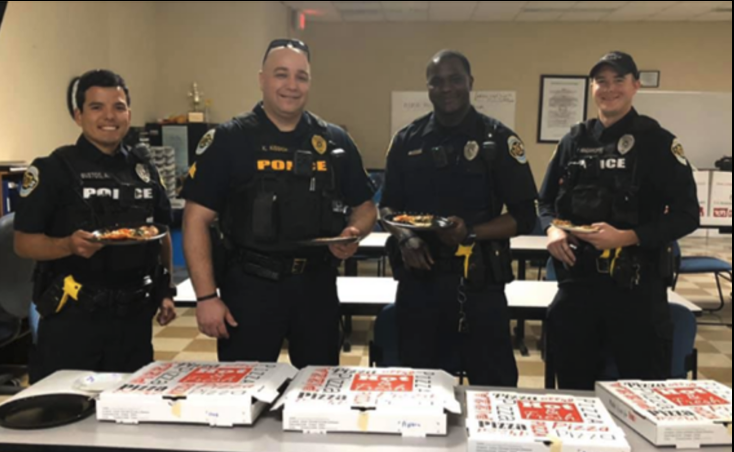 The law firm has teamed up with area eateries to provide food for essential workers in a show of appreciation for the unsung heroes fighting the coronavirus outbreak in Alabama.
HUNTSVILLE, AL, March 31, 2020 – To show appreciation and support for the efforts and sacrifices of local law enforcement and emergency room staff during the coronavirus crisis, the law firm of Morris, King & Hodge is working with local restaurants to provide free meals as essential workers fight the virus.
Morris, King & Hodge recognizes the risk that our local law enforcement and emergency room staff take to carry out their essential jobs during this unprecedented time. As a small gesture of appreciation, the firm is proud to team up with Sam and Greg's Pizzeria, Po'boy Factory, Terry's Pizza, and Mason Dixon Bakery to provide approximately 250 meals for some of the individuals fighting COVID-19 on the front lines.
The firm's goal is to help support local restaurants during this difficult time, while also making the day better for some of our local, unsung heroes.
Morris, King & Hodge has purchased gift certificates or made donations at the restaurants to provide meals for first responders and medical providers.
"We wanted to do something for those who are fighting for our health and safety, and at the same time help our local restaurants," said attorney David Hodge.
The "essential meals" outreach comes at a time when Alabama continues to see increasing numbers of covid-19 cases, and many non-essential businesses in the state are closed by order of the governor.
The attorneys and staff of Morris, King & Hodge take the coronavirus pandemic very seriously and are working to promote the health and well-being of our friends and neighbors in Alabama. The firm remains open while taking social distancing measures.
Morris, King & Hodge offers free  consultations for individuals with legal issues. The firm's clients can  communicate by way of phone, videoconference, email, or other methods that do not involve an in-person meeting.
About Morris, King & Hodge P.C.
Morris, King & Hodge, a Huntsville-based personal injury law firm, has served families in North Alabama and across the state since 1966 with their personal injury and business litigation cases. The firm has been named as a "Best Law Firm" by the publication U.S. News-Best Lawyers® for 10 years in a row. Morris, King & Hodge is located at 200 Pratt Avenue NE, Huntsville, AL 35801 (local phone (256) 536-0588) with another office in Florence. To learn more, please contact the firm through its online form.