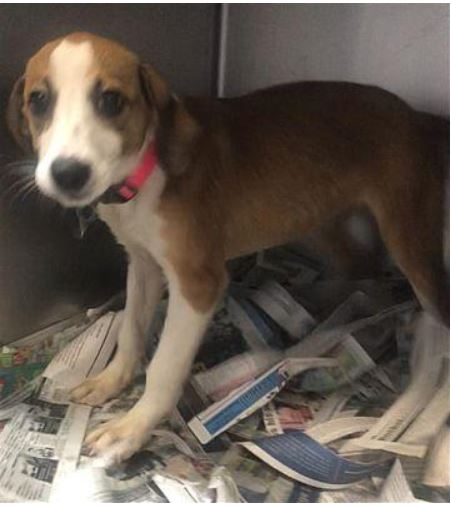 In this season of giving, the attorneys at Morris, King & Hodge, P.C., want to help Eva find her "furever" home.
CLICK HERE TO SEE EVA ON THE GHHS.ORG SITE
As dog owners themselves, all of the attorneys at Morris, King & Hodge, P.C., appreciate the bond that is built with man's best friend, and want to help Eva, a dog from the Greater Huntsville Humane Society, find a loving human/family to go home with this Christmas season. With this in mind, Morris, King & Hodge, P.C., will be paying the adoption fee for Eva, so that she will get a loving family for Christmas this year!
Eva is an almost 4-month-old, brown and white puppy. She is very sweet and social, who wants all the love and attention. She is a mixed breed and is expected to be a medium size dog, weighing between 30-50 pounds. She has already been spayed and is up to date on all her shots. Morris, King & Hodge, P.C., hopes that you will consider opening your home and hearts to allow Eva to join your family this year!
Benefits of Dogs in The Home
It is no surprise that dogs are commonly found on wish-lists during the Christmas season. And, they make great gifts for those that are ready for the responsibility of owning and caring for a dog. While you are likely aware of the pros, here are a few benefits of having pets, such as a dog:
A pet can teach empathy
A pet can teach confidence\A pet can teach responsibility May help socialize children
Can increase verbal skills
A pet can be therapeutic (lower blood pressure, reduce stress, anxiety, etc.)
About the Adoption Process
To meet Eva, please visit the Greater Huntsville Humane Society located at 2812 Johnson Road, Huntsville AL 35805, Monday-Saturday, 10 a.m. to 4:30 p.m. Please keep in mind that adoptions stop at 4 p.m.
To get the most up-to-date information about the adoption process, please check out the information provided by the Huntsville Greater Humane Society.
What Does the Adoption Fee Cover?
Morris, King & Hodge, P.C., will pay the adoption fee so that Eva is able to find a home this holiday season. The adoption fee covers spay/neuter surgery (legally required), current vaccines and boosters, a microchip with a lifetime registration, heartworm preventative until time of adoption, and a small bag of food. Please note: all dogs must leave with a collar and leash. You can bring these items with you or purchase them at the shelter! Learn more about the adoption process here
About Morris, King & Hodge, P.C.
Since 1966, our lawyers have been standing up for injured victims and taking cases to court in North Alabama and all across the state. Morris, King & Hodge, P.C., has served families with their personal injury and business litigation cases. The firm prides themselves on being an active part of the Huntsville community and continue to assist in the efforts towards a safe and enjoyable environment for all Alabama residents, through the Taxi tow, sponsoring skating in the park, the scholarship campaign to stop drunk driving, and more, to include this first time dog adoption event.
Morris, King & Hodge, P.C., is located at 200 Pratt Avenue NE, Huntsville, AL 35801 (local phone (256) 274-8130) with another office in Florence. To learn more, please contact the firm through its online form.