Hurt by a defective product? Trust knowledge.
The product liability lawyers at Morris, King & Hodge, P.C., are dedicated to helping Alabamians who were injured or lost a loved one to a dangerous consumer product. If we are your lawyers, we will bring a lawsuit against the product manufacturer or any other responsible party on your behalf. We will not hesitate to go to trial if necessary. To learn how we can help, call us at 256-274-8130 or contact us online to schedule a free case review.
Types of Product Claims We Handle
With the stresses and losses associated with these claims, it is important that the lawyer representing the victims of these accidents and their families has experience in litigating complex cases and those involving catastrophic injuries. Our Huntsville, Alabama product liability lawyers have successfully litigated claims involving many different types of products, including these consumer items:
Seatbelts
Heaters
Airbags
Car seats
Cribs
Electrical devices, such as e-cigs
Farm equipment
Power tools
Heavy equipment
Household appliances
Ladders
Product Liability Claims and the Law in Huntsville
According to the most recent data from the Consumer Product Safety Commission (CPSC), approximately 38,573,000 people in the United States sought medical attention for a consumer product-related injury in 2010. In 2008, 35,900 deaths were linked to consumer products. It was the eighth consecutive year that the consumer product death rate increased.
Despite all of those injuries and deaths, product liability cases are complex and difficult to prove. In order to win a product liability case, it is necessary to prove that:
You suffered injury or losses;
The product is defective;
The product defect caused your injury;
You used the product as intended
There are three types of product defects that one or more parties along the chain of manufacture (more on that below) can incur liability for. They are:
Design defects: A product with a design flaw may be inherently dangerous despite proper manufacturing and appropriate consumer use.
Manufacturing defects: These defects occur at the time of product construction or production.
Marketing defects: A marketing defect can be said to exist if a product does not contain language—such as instructions or warning labels—that describes product dangers.
An important point to keep in mind is that the product must have caused you injury or loss. It is not enough that a product nearly hurt you or a loved one or almost caused property damage. You must be able to substantiate, through things like medical and repair bills, that losses occurred.
There are several parties along the so-called "chain of manufacture" that can be held legally responsible for an unsafe consumer product. They are:
A components part manufacturer;
An assembling manufacturer;
The wholesaler;
The retail store
Damages You May Entitled to In a Product Injury Case
If you win a product injury claim, you may be able to recover the following damages:
Medical bills and expenses;
Lost wages, including future lost wages from inability to work;
Pain and suffering;
Property damage;
Loss of enjoyment of life
Clients often want to know, "How much is my lawsuit worth?" The truth is, it is nearly impossible to estimate. The potential value of a claim will depend on many factors, including the extent of your injuries, and the amount of property damage that occurred. By contacting Morris, King & Hodge, P.C., at 256-677-4376, however, you can get a better idea of how much you may be entitled to from a product manufacturer, wholesaler, or seller.
If you have a question about a product that is not listed here, do not hesitate to contact Morris, King & Hodge, P.C. Our personal injury lawyer is among the most honored in the state, and we have helped many Alabamians like you obtain compensation stemming from dangerous product harm.
Receive a Free Consultation From Our Huntsville, Alabama Attorneys
Aside from preserving crucial evidence, the best way to protect your interests in a product liability case is to speak with an attorney. The AV-rated firm of Morris, King & Hodge, P.C.. is an Alabama leader in personal injury claims. We will put our 100 years of combined legal experience to work for you in seeking money for damages caused by a product manufacturer, retailer, or seller. Whoever is responsible for your injuries, our lawyers will hold them accountable. Trust knowledge. Trust experience. Trust Morris, King & Hodge, P.C.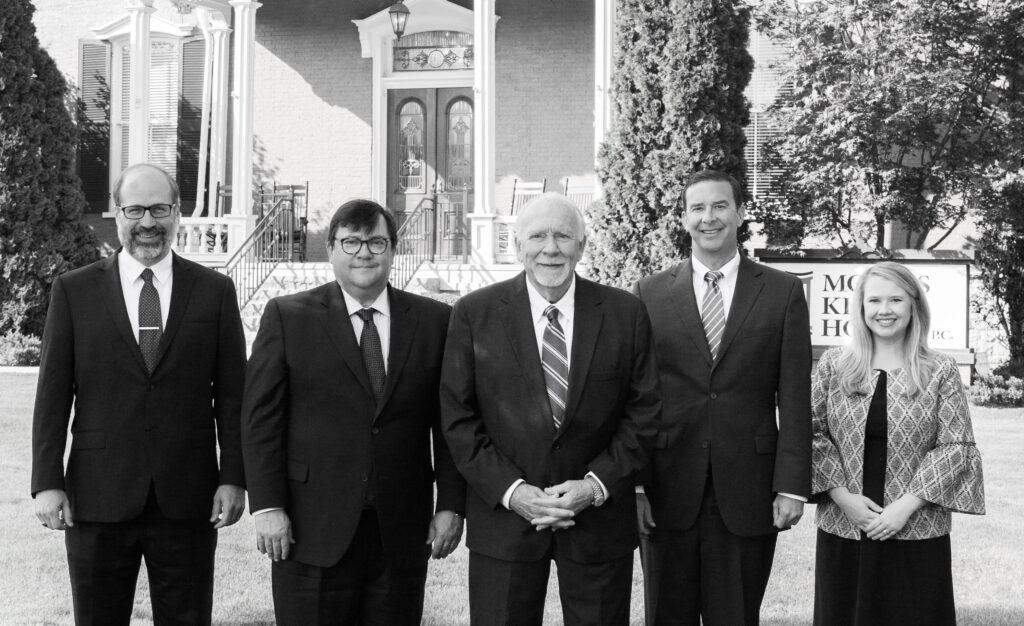 Our Alabama personal injury lawyers regularly serve clients throughout Northern Alabama and Alabama, including Madison County, Morgan County, Limestone County, Marshall County, Cullman, and Florence, but we also serve clients regionally and throughout the United States. To speak with a firm member about your case, call us locally at (256) 274-8130 or toll-free at (888) 321-8353. You may also send us a secure online message.