Utility trucks are commercial vehicles designed to help workers perform vital jobs in communities throughout Alabama. Private businesses and municipalities use utility trucks for services such as garbage pickup, communications, cable installation, landscaping and smaller construction projects.
Utility trucks are much smaller than 18-wheelers or some other types of commercial trucks. But they still outweigh the standard passenger car and are capable of causing serious harm if an accident occurs.
All truck accidents are not treated equally under the law. If you've been in a wreck involving a utility truck, it likely won't be a simple matter of contacting the driver's insurance company to make a claim for compensation. You need a truck accident attorney to figure out your next steps. That's where we can help.
The Florence attorneys at Morris, King & Hodge, P.C., are skilled and talented litigators. Our team has over 100 years of combined legal experience helping injured people through some of the most challenging times of their lives. We aren't afraid to tackle complex utility truck accident cases. We will identify who is responsible for your injuries and handle any insurance challenges. We are ready to fight for your right to full and fair compensation.
Contact us for a free consultation with a utility truck accident attorney. You only pay if we win your case.
What Makes Florence Utility Truck Accidents Different from Large Truck Crashes?
There are definite similarities between a utility truck and a large truck such as a tractor-trailer. Both are used for commercial purposes. Both are heavy-duty and may have specialized equipment or cargo. Drivers of utility trucks and big rigs both require additional training to operate their vehicles safely. But there are some important differences to know if you have been in a utility truck accident.
First, utility trucks are not as heavily regulated as an 80,000-pound tractor-trailer. Large truck drivers and their employers are bound by federal and state regulations governing cell phone use, how long they can drive without resting, vehicle maintenance and numerous other restrictions. Any violation could help prove a case for negligence. Since the same laws don't necessarily apply to utility trucks, the way an attorney approaches your case may be different.
Utility trucks are also permitted in places where 18-wheelers are not. A utility truck is a common sight in neighborhoods where power and phone companies complete repair work using bucket trucks, recycling and garbage trucks make collections, and UPS or postal trucks make package deliveries. But they are larger vehicles in smaller areas where motorists, pedestrians and bicyclists are more likely to be. A crash, even at a low speed, can be devastating.
Common Causes of Florence Utility Truck Wrecks in Alabama
A utility truck accident can happen for the same reasons that all traffic crashes do, such as speeding, running a red light or distracted driving. But some common causes of utility truck accidents are different and have important consequences when it comes to liability, such as:
Poor training – Utility trucks are not just glorified pickup trucks. They require specialized training to operate safely. But many times, employers try to cut corners and put untrained drivers behind the wheel. When an ill-trained driver's error results in an accident that injures or kills someone else, the injured party may be able to file a claim for compensation.
Lack of maintenance – A utility truck needs regular inspections and vehicle maintenance to be safe on the road. Failure to ensure the vehicle's safety can have catastrophic results if the brakes fail on a residential road and the truck collides with someone else.
Vehicle defect – Poor maintenance may be one cause of a utility truck accident. However, a utility truck that crashes due to a defective part or tire could mean that a designer or manufacturer should be held responsible for the accident.
Liability for Utility Truck Accidents
Determining liability in a utility truck accident is not always straightforward. Responsibility for the wreck could fall upon more than one party. That could mean dealing with several insurance companies to obtain the compensation that you deserve.
Depending on the circumstances, liability could fall upon:
The utility truck driver's employer – Businesses may be held liable if the accident occurred while the worker was performing the duties outlined in the scope of his or her employment.
The negligent driver – In some cases, the actions of the driver are negligent such that he or she may be held accountable for the accident.
Local government or municipality – Suing a city or state entity has specific rules and shorter timelines, so it is very important to contact an attorney as soon as possible to protect your claim.
The general contractor – Some utility truck companies are hired by general contractors to perform jobs and may be held liable for any damages that result from an accident.
Vehicle manufacturers – If a defect caused an accident, it may be possible to bring a products liability claim against the designer or distributors of the parts.
It's important to contact a lawyer as soon as possible after an accident to ensure that all possible sources of compensation for you are identified and pursued.
Get Help from a Huntsville Utility Truck Accident Attorney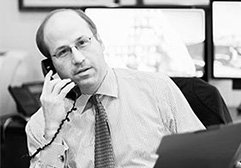 After an accident, just getting back to daily life can be challenging. The thought of taking legal action may seem overwhelming. But Morris, King & Hodge, P.C., can simplify the process for you.
Let us handle communications with the insurance companies.
We will perform a thorough independent investigation to find out who is responsible for your utility truck wreck.
We gather all of the evidence, witness statements and expert testimony necessary to show the extent of your injuries and how they have impacted your life.
We will build a strong case to compensate you not only your physical and financial losses, but also for the emotional toll that the accident has taken on you and your loved ones.
For a free case evaluation, contact Morris, King & Hodge, P.C., today. We want to hear your story and provide you with free advice about your best legal options for recovering compensation. We can help with all types of truck accidents including tractor trailers, fire trucks & ambulances, buses, bucket trucks, delivery trucks, and more.